With Dwight Allen
Saturdays 10 to Noon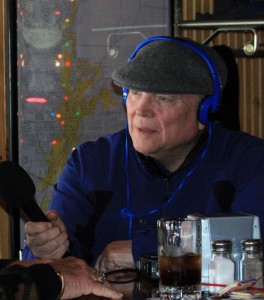 The Racing World Program hosted by Dwight Allen has been on WFIN for 21 years featuring reports from Attica Raceway Park, Eldora Speedway, Limaland Speedway, Waynesfield Motorsports Park, Millstream Speedway Findlay  and Fremont Speedway. You'll also hear from Michelle Gressman, bench racer and reporter.
Other special segments include a NASCAR report from Jeff Cheaturm plus a spokesman from The World of Outlaws, All-Star Circuit of Champions, National Speedsport News, NASCAR, IRL, USAC and Late Model "World of Outlaws".
John Wells reports from area racing events and Dave Johnson is the producer.
Dwight is also joined in the studio each week by a rotating panel of local racing experts and drivers.
Racing World Weekly Schedule Saturday – 10 am to Noon
| Time | Topic |
| --- | --- |
| 10:05-10:15 | NASCAR TIME with Jeff Cheatham |
| 10:15-10:30 | Attica Raceway Park with promoter Rex Lejeune |
| 10:30 to 10:45 | Waynesfield Raceway Park with promoter Danny Kelly |
| 10:45 to 11:00 | Eldora Speedway with General Manager Roger Slack |
| 11:05-11:15 | Celebrity/Classic Car time with Larry Reese |
| 11:15 to 11:30 | Limaland Speedway with promoter Gene Frankert |
| 11:30-11:45 | Fremont Speedway with owner Rich Farmer |
| 11:45-12:00 | Millstream Speedway with promoters Randy and Lisa Hammer |
Audio Archives