Every team's roster right now, ranked
It's been barely more than a week since the Dodgers beat the Rays in six games to take the World Series, and so looking ahead to 2021, you might think that each of those teams are well-positioned to succeed once again. After all, they were the No. 1 seeds in their respective leagues, they played a competitive Series, and over the past three seasons, they're each in the top 5 in terms of most regular-season games won.
Maybe so. But already we need to reconsider who we're thinking of when we think of "the Dodgers" and "the Rays," because 10 players who were in the Series just a week ago are now officially off the roster and into free agency. You probably think of Justin Turner, Blake Treinen, Joc Pederson, Enrique Hernández, Alex Wood, Jake McGee, Pedro Báez, Charlie Morton, Mike Zunino, and Aaron Loup as Dodgers and Rays, respectively. They're not. Not now. If the season were to begin today, Tampa Bay's starting catcher would be … Ronaldo Hernández, a 22-year-old who has never played above Class A. The Dodgers would have Edwin Ríos at third base.
The season doesn't start today, obviously, but the offseason already has, and every team has some work to do. So let's do a reset here, and see where everyone is at and which holes they have to fill. To do that, we'll look at the current projected team rosters as of Nov. 8 as shown on FanGraphs, which also includes 2021 wins above replacement projections from Steamer. (This means we're looking at all rosters without free agents, and Toronto's signing of Robbie Ray hasn't yet been included.)
This isn't how teams will look when the season starts, of course. This is how they look right now. This is where we start from. Some of them are surprising. That is, of course, the point.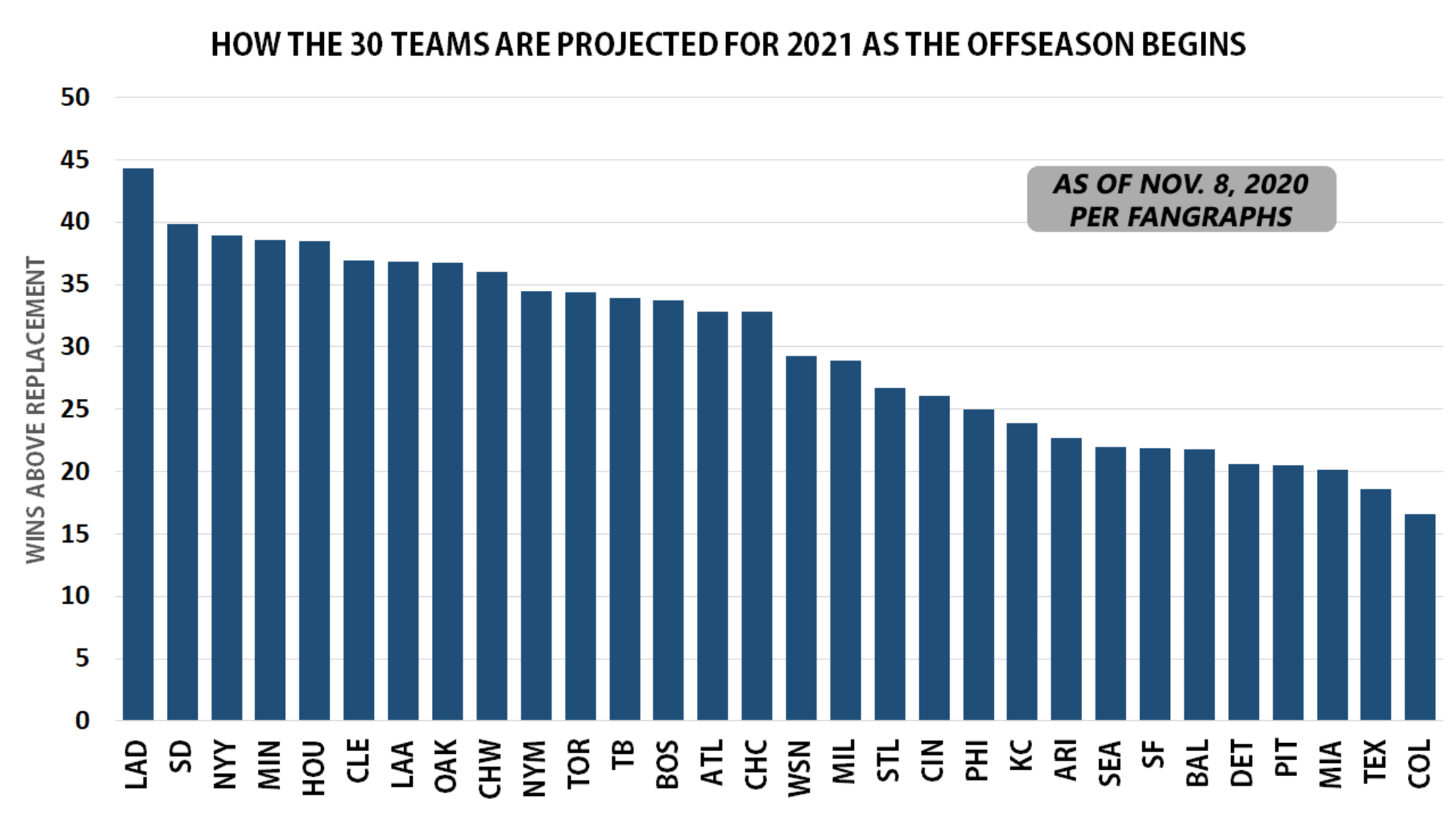 1) Dodgers (44.3 WAR)
Free agents: RHP Pedro Báez, 2B Enrique Hernández, LHP Jake McGee, RHP Jimmy Nelson, OF Joc Pederson, RHP Blake Treinen, 3B Justin Turner, LHP Alex Wood
Biggest need: Third base and bullpen
Oh, right. The best team in baseball — not just in 2020 but for most of the last decade — still looks like it's going to be the best team in baseball. Funny how that works. Other than Turner, who may yet return anyway, none of their impending free agents are the kind of fundamental building blocks who can't be replaced. They still have Mookie Betts, Clayton Kershaw, Corey Seager, Walker Buehler, Max Muncy, Will Smith, and so on. They're still the Dodgers.
They might, also, get better. They may get back David Price, who didn't pitch in 2020. They can expect a lot more from top prospect Gavin Lux, who contributed little in 2020. Maybe they'll jump into a potential Francisco Lindor sweepstakes. And while it's fair to expect that this is not going to be a financially prosperous winter for free agents, Betts is the only player the Dodgers have money committed to beyond 2022. They could use another bullpen arm or three — who couldn't — but the Dodgers will, as they are every year, be favored headed into next season, this time freed of the "but where's the ring?" pressure.
2. Padres (39.8 WAR)
Free agents: C Jason Castro, 2B Jurickson Profar, 1B Mitch Moreland, RHP Garrett Richards, RHP Trevor Rosenthal, RHP Kirby Yates
Biggest need: Relief pitching
2020's biggest breakout team will head into 2021 well-positioned to aim for a World Series ring, yet at the same time, the Padres almost certainly will not be the favorite in their own division, thanks to the Dodgers. By WAR, the biggest hole in their lineup is at first base, where Eric Hosmer has generally disappointed, but a change there simply is not going to happen both because of his big contract and whatever hope you might like to put into 38 good games of 2020.
Instead, the Padres are going to need to focus on the bullpen — a group which was expected to be outstanding in 2020, but was instead decent, and one which will now need to replace Yates and Rosenthal (although they already spent much of '20 without each of them anyway). Drew Pomeranz might be the best reliever you don't pay enough attention to; Dinelson Lamet the most underrated pitcher; Trent Grisham the most underrated outfielder. This might be the Fernando Tatis Jr. and Manny Machado show, but they're hardly alone.
3. Yankees (38.9 WAR)
Free agents: OF Brett Gardner, LHP J.A. Happ, RHP Tommy Kahnle, C Erik Kratz, INF DJ LeMahieu, INF Jordy Mercer, LHP James Paxton, RHP Masahiro Tanaka
Biggest need: Middle infield, starting rotation, maybe catcher
This is a pretty good ranking considering all the questions this team has. That's because at the moment, Tyler Wade would be their starting second baseman, and they're losing three-fifths of their starting rotation. Do you know what to make of Gary Sánchez? Neither do we.
It's clear that they'll add pitching behind Gerrit Cole, though what's less certain is how they'll configure their infield. They'd love LeMahieu back, obviously, though it's become increasingly clear that Gleyber Torres is a better fit at second base than shortstop. But if you move him to the right side and get a shortstop, where does that leave LeMahieu? You make room for a hitter that talented, but it's a little complicated.
4. Twins (38.6 WAR)
Free agents: INF Ehire Adrianza, C Alex Avila, RHP Tyler Clippard, DH Nelson Cruz, UTIL Marwin Gonzalez, LHP Rich Hill, RHP Trevor May, RHP Jake Odorizzi, RHP Sergio Romo
Biggest need: Bench, DH, starting pitching
The 2020 Twins were somewhat disappointing, especially on offense, as the '19 "Bomba Squad" simply didn't materialize in the same way. But this is where not overreacting too much to a 60-game season under the weirdest of circumstances is important, because the projections still view Minnesota's offense very favorably. It helps, too, that after Mitch Garver struggled, young catcher Ryan Jeffers arrived and posted a 118 OPS+.
Still, the Twins need to count on some rebounds, because they'll need to rebuild their bench if Adrianza and Gonzalez leave, replace Cruz's big bat if he doesn't return and add probably three or four new pitchers, though they'd also hope for better health from Josh Donaldson and Garver. They're a good team no mater how 2020 ended. There's lots to be done here.
5. Astros (38.5 WAR)
Free agents: OF Michael Brantley, RHP Chase De Jong, RHP Chris Devenski, C Dustin Garneau, RHP Roberto Osuna, RHP Brad Peacock, OF Josh Reddick, OF George Springer
Biggest need: Two outfielders, relief pitching
Not included in any of this is Justin Verlander, who is under contract for 2021 but likely to miss the entire season due to Tommy John surgery. Dusty Baker and the Astros were able to piece together a pretty decent rotation anyway, with veteran Zack Greinke, a healthy Lance McCullers and youngsters Jose Urquidy, Framber Valdez and Christian Javier.
The infield is relatively intact — and full of stars — but all three outfielders from 2019 are free agents, meaning Houston's starting outfield is something like Chas McCormick, Kyle Tucker and Myles Straw. Tucker has earned himself a starting spot, but the Astros will need to find at least two more outfielders, plus reinforce a tattered bullpen.
6. Indians (36.9 WAR)
Free agents: 1B Carlos Santana, LHP Brad Hand, 2B Cesar Hernandez, C Sandy León, LHP Oliver Pérez
Biggest need: Same as it is every year: An outfielder who can hit
Were you surprised to see them rated this highly? We were, too. This is a credit to the dominant left-side infield duo of Francisco Lindor (projected 5.1 WAR) and José Ramírez (5.4 WAR), plus Shane Bieber (5.5 WAR) atop the rotation. These are legitimate all-world superstars.
Now, this is assuming Lindor is actually still on the team in 2021, but trade rumors are just that until any such deal is actually made, so for the moment, he is. In the meantime, may we humbly suggest what we've been suggesting for several years now, which is to add an outfield bat? Over the last two years, Cleveland has had the second-worst outfield offense in baseball, and while we were admittedly impressed by Josh Naylor's two playoff games against the Yankees, he also has a career 85 OPS+. There ought to be plenty of outfield bats available. Cleveland needs at least one.
7. Angels (36.8 WAR)
Free agents: RHP Cam Bedrosian, SS Andrelton Simmons, RHP Julio Teheran
Biggest need: Pitching. It's always pitching. Every year. Pitching. Oh, and a general manager.
Other than Simmons, who was injured for much of 2020, the Angels aren't losing much to free agency. That's both a good thing (not much to replace!) and a bad thing (the team hasn't been good in years!). That this team is in the top 10 is largely about its star power, primarily Mike Trout (projected 7.5 WAR) and Anthony Rendon (5.51 WAR), yet the Angels always seem to be less than the sum of their parts.
That could be helped if Jo Adell's breakout is only a year delayed, and if Jared Walsh is given more time at first base than Albert Pujols, but as it is every year, it's about the rotation. The Angels have had baseball's weakest starting pitching the last two seasons, though Dylan Bundy's breakout could help change that. If they're ever going to get Trout to October, they're going to need at least three new starting pitchers — and someone running the front office to do it.
8. A's (36.7 WAR)
Free agents: RHP Mike Fiers, OF Robbie Grossman, RHP Liam Hendriks, 2B Tommy La Stella, 1B/3B Jake Lamb, LHP T.J. McFarland, LHP Mike Minor, RHP Yusmeiro Petit, SS Marcus Semien, RHP Joakim Soria
Biggest need: Middle infield, bullpen
That, right there, is a big list of valuable players headed off into free agency. Maybe it says a lot about the depth the A's have built that even without those players, this is still considered a top-10 team — it helps to have Matt Olson, Matt Chapman, Sean Murphy, Jesús Luzardo, Ramon Laureano, and so on — that has some enviable young pitching.
Still, second base was already a problem, and if Semien departs, they'll need an entirely new middle infield, since Tony Kemp and Chad Pinder are better utilized as bench players than starters. It's not easy to replace arguably baseball's most dominant reliever in Hendriks, either.
9. White Sox (36 WAR)
Free agents: RHP Alex Colomé, OF Jarrod Dyson, DH Edwin Encarnación, LHP Gio González, RHP Evan Marshall, C James McCann
Biggest need: Right field, starting pitching
Wondering if the 2020 White Sox were a fluke? Nope. They were easily predictable last winter as a team on the rise, and that played out, even if replacing Rick Renteria with Tony La Russa was more than a little surprising. What the Sox also have going for them is the fact that Colomé is the only notable free agent they might lose. (McCann had a strong 2020, to be clear, but they're well situated at catcher with Yasmani Grandal.)
For the most part, the Sox can kick back and watch that young lineup cook, expecting improvement from many of the young bats they've collected, though right field remains a weakness after Nomar Mazara had the weakest season of an underwhelming career. (Joc Pederson would be a nice upgrade.) Like most other teams, they'll need to add starting pitching depth behind Lucas Giolito and Dallas Keuchel.
10. Mets (34.5 WAR)
Free agents: OF Yoenis Céspedes, C Robinson Chirinos, 3B Todd Frazier, RHP Jared Hughes, 2B Jed Lowrie, OF Jake Marisnick, INF Eduardo Núñez, RHP Rick Porcello, RHP Erasmo Ramírez, C Wilson Ramos, C Rene Rivera, RHP Marcus Stroman, RHP Michael Wacha, LHP Justin Wilson
Biggest need: Catcher, starting pitching, a resolution on the DH
The Mets are expected to be one of the rare aggressive teams this winter as new ownership comes in, and as you can see, they're losing a chunk of their roster to free agency. This is a good example of what we mean about "what does your team look like right now," because the Mets' catching situation today would be Tomás Nido and Ali Sanchez.
Obviously, that's not how it will look in April, and even more obviously, every Mets fan on the planet wants them to go out and get J.T. Realmuto. Perhaps they will, but that's not their only need, given the uncertainty behind Jacob deGrom and Seth Lugo in the rotation. Plus, without knowing if the DH will be in play in the NL next year, it's a little hard to know how to plan for the Dom Smith-Pete Alonso combination.
11. Blue Jays (34.4 WAR)
Free agents: RHP Chase Anderson, RHP Anthony Bass, RHP Ken Giles, C Caleb Joseph, 2B Joe Panik, LHP Robbie Ray, RHP Matt Shoemaker, 2B/SS Jonathan Villar, RHP Taijuan Walker
Biggest need: Third base, starting pitching
It's pretty clear that this iteration of the Blue Jays will go as far as Cavan Biggio, Bo Bichette, Nate Pearson and the newly-slim Vladimir Guerrero Jr. will take them, but it's also clear that the young core needs some help. Travis Shaw wasn't the answer at third base, and it's hard to see Guerrero ever going back there. Is Teoscar Hernández's breakout for real? While they did a good job unearthing solid relievers, is there a single starter you can rely on (Pearson included) aside from Hyun Jin Ryu?
This is a team that's in strong position to be aggressive, but how much will they be limited by the difficulty in luring free agents to a team that may not know which country it will be able to call home in 2021?
12. Rays (33.9 WAR)
Free agents: LHP Aaron Loup, RHP Andrew Kittredge, RHP Charlie Morton, C Kevan Smith, C Mike Zunino
Biggest need: Catcher, another catcher, pitching
The defending American League champions, and for the last several seasons one of baseball's best clubs, all the way down in 12th, despite (aside from Morton) not losing any particularly notable free agents? That's more than a little bit of a surprise, to be honest. Then again, as we noted a few thousand words ago: They literally do not have a Major League-ready catcher. Injured pitchers Colin Poche, Jalen Beeks, Yonny Chirinos and Brendan McKay may not be available for much of next year. Last year's imports, Hunter Renfroe and Yoshi Tsutsugo, were mostly disappointing.
The Rays always, always make more out of what they have than you'd think, so no one will expect them to be here when the season starts. There just feels like more uncertainty than usual, particularly about whether Austin Meadows rebounds, if and when Wander Franco gets called up and what on earth to make of Randy Arozarena.
13. Red Sox (33.7 WAR)
Free agents: OF Jackie Bradley Jr., OF Rusney Castillo, RHP Mike Kickham, RHP Zack Godley, RHP Collin McHugh, INF José Peraza, LHP Martín Pérez, OF César Puello, RHP Andrew Triggs
Biggest need: A right side of the infield, an outfielder, a half-dozen pitchers (to begin)
Boston just had the worst ERA in team history, so as you might expect, pitching is a serious concern here. The rotation was poor. The bullpen was poor. The pitching, we're trying to stress, was not good, so that's where you start, even if you get something out of Chris Sale later in the season.
Problem is, it doesn't end there. With Bradley off to free agency, they'll need an outfielder to go with Alex Verdugo and Andrew Benintendi (in addition to needing Benintendi to reverse a backwards slide). They need J.D. Martinez to turn around a disappointing 2020. They need at least one right-side infielder, and probably two, if we're being honest. They still have Rafael Devers, Xander Bogaerts and Alex Verdugo, and that's a nice place to start. They just need so much more.
14 [tie]. Braves (32.8 WAR)
Free agents: RHP Jhoulys Chacín, INF Charlie Culberson, C Tyler Flowers, RHP Shane Greene, LHP Cole Hamels, SS Adeiny Hechavarría, RHP Felix Hernandez, OF Nick Markakis, RHP Mark Melancon, LHP Tommy Milone, DH/OF Marcell Ozuna, RHP Darren O'Day, 3B Pablo Sandoval, 3B Yangervis Solarte, RHP Josh Tomlin
Biggest need: An Ozuna replacement, more starting pitching
The Braves are the three-time-defending NL East champions and seem to be routinely underrated in a tough division, so we expect Atlanta fans might not be happy about this. That large list of impending free agents ought to tell you some of the story — note the relievers, in addition to Ozuna — and the likelihood that Mike Soroka may not be at full strength to start the season tells you some of the rest of it.
There's not much to be done in the infield, and obviously Ronald Acuña Jr. is a superstar. But will Cristian Pache be given a starting outfield job, and if so, will he hit? Who starts in left field? How much of Ian Anderson's outstanding late-season success is sustainable, and who is with him, Max Fried and eventually Soroka in the rotation even if it is? The Braves won't be underrated again, but there's a ton of questions here today.
14 [tie]. Cubs (32.8 WAR)
Free agents: LHP Andrew Chafin, RHP Tyler Chatwood, RHP Jeremy Jeffress, LHP Jon Lester, 2B Daniel Descalso, OF Billy Hamilton, 2B Jason Kipnis, OF Cameron Maybin, C Josh Phegley, LHP José Quintana
Biggest need: Offense, anywhere you can possibly find it, and a starter
The Cubs keep having this odd combination of "lots of talent" and "poor results," which is why you keep hearing things about them shaking up the roster this winter. This is still a team with Anthony Rizzo, Javy Baez, Kyle Hendricks, Kyle Schwarber and Yu Darvish, which is why they rate so well. The projections believe in Ian Happ's breakout. They believe in a Kris Bryant rebound.
Maybe you don't, and maybe you prefer to point out that without Lester or Quintana, a rotation boost is needed. (It is.) But this always comes back to the bats, where the Cubs had 2020's 21st-best offense and fourth-worst infield offense. You'll notice, though, that none of their starting position players are on our free agency list above, meaning that if the Cubs want to make a move, it's not filling a hole. It's shipping out a known quantity, perhaps a member of the World Series team.
16. Nationals (29.3 WAR)
Free agents: INF Asdrúbal Cabrera, LHP Sean Doolittle, OF Adam Eaton, 2B Brock Holt, 2B Howie Kendrick, RHP Aníbal Sánchez, C Kurt Suzuki, 1B Eric Thames, 1B Ryan Zimmerman
Biggest need: Three-quarters of an infield, left field, bullpen
The 2020 Nats mostly tried to go with the "2019 team minus Anthony Rendon" plan, and it didn't work very well. The good news is they still have superstars Trea Turner and Juan Soto, and they should have a rotation fronted by Max Scherxer, Stephen Strasburg and Patrick Corbin. That's all great, even if the back of the rotation is a weakness.
The problem is, well, everything else. Washington is projected to have the sixth-weakest set of position players, which says a lot when you're starting with Turner and Soto. (Right now, three-quarters of their projected infield would be manned by Jake Noll, Luis Garcia and Carter Kieboom.) They have the stars. Where's the depth?
17. Brewers (28.9 WAR)
Free agents: LHP Brett Anderson, OF Ryan Braun, INF Jedd Gyorko, INF Eric Sogard
Biggest need: Infield bat(s)
This is assuming that Lorenzo Cain plays in 2021 and Christian Yelich plays better than he just did, which seems fair. It helps, also, that Corbin Burnes and Brandon Woodruff provide a pair of top-of-the-rotation arms and that Devin Williams and Josh Hader are two elite relievers. There's a lot of stars here.
They might want another outfielder to replace Braun (especially if Cain doesn't return), but the primary issue here is on the infield, where Brewers infielders as a group hit just .222/.302/.384, the fifth-weakest mark in baseball. That's actually worse than it sounds, considering it includes 135 strong plate appearances from Gyorko, who may not return.
18. Cardinals (26.7 WAR)
Free agents: INF Brad Miller, C Yadier Molina, RHP Adam Wainwright, C Matt Wieters, 2B Kolten Wong
Biggest need: Offense, badly
While most of the focus will be on the possible departure of St. Louis legends Molina and Wainwright, that's not what will define success or failure for the Cards in 2021. Like most of the rest of the NL Central, the Cardinals, who had the 12th-weakest offense in 2020, desperately need to find offense, just like they did last year. Some of it has to come internally. They need Paul DeJong to be better. They need Tommy Edman to be better. They need Dylan Carlson to break out, though he needs to be given the opportunity to do so.
That's partially what's behind the unpopular decision to decline Wong's 2021 option, though a return isn't out of the question. The larger decision here is what to do with Matt Carpenter, who has an 89 OPS+ since the start of 2019. They might also need another catcher if Molina departs. Either way, they cannot simply return the same offense and expect to be much better.
19. Reds (26.1 WAR)
Free agents: RHP Trevor Bauer, RHP Anthony DeSclafani, SS Freddy Galvis, RHP Nate Jones, RHP Tyler Thornburg
Biggest need: Offense anywhere they can find it, and shortstop
Another NL Central team, another club looking for bats. Unlike the Cardinals, however, who were projected to be weak offensively and then lived up to it, the Reds were more surprisingly disappointing, given all the effort they put into reinforcing the lineup last winter. Some of that is simply "we need Nick Castellanos, Nick Senzel, Shogo Akiyama and Eugenio Suárez to be better," which is both reasonable and a lot to ask.
They're also going to need a shortstop, because it's unlikely that José García or Kyle Farmer will be the everyday solution there. (They're currently ranked as the 30th-best shortstop group.) Fortunately for Cincinnati, there are options there — Simmons, perhaps, or Didi Gregorius, or Semien — and the fact that we're not focusing on the possible loss of NL Cy Young Award finalist Bauer should tell you a lot about the hitting problems here.
20. Phillies (25 WAR)
Free agents: LHP José Álvarez, RHP Jake Arrieta, OF Jay Bruce, INF Phil Gosselin, SS Didi Gregorius, RHP Heath Hembree, RHP Tommy Hunter, LHP Adam Morgan, RHP Blake Parker, RHP David Phelps, C J.T. Realmuto, RHP David Robertson, RHP Brandon Workman
Biggest need: A general manager, a catcher, a middle infielder, a center fielder, an entirely new bullpen, two starters … which is a lot.
The only reason the 2020 Phillies didn't have the worst bullpen in history is because a previous iteration of the Phillies did, back in 1930, and so if you'd like to start with "blow that all up and start over," you'd be justified in doing so. The problem is, that's hardly their only need, and we don't know who's going to be running the show yet.
The good news is that Aaron Nola, Zack Wheeler, Rhys Hoskins and Bryce Harper were very good. Alec Bohm looks like a keeper. The offense was actually pretty strong, though that included Gregorius and Realmuto. Otherwise? A decade since their last winning season, they're still not close to contending.
21. Royals (23.9 WAR)
Free agents: RHP Matt Harvey, RHP Greg Holland, RHP Ian Kennedy, RHP Kevin McCarthy, LHP Mike Montgomery
Biggest need: Outfield, a right side infielder, pitching of any flavor
It would be nice if Franchy Cordero could stay healthy and have that breakout we've been watching out for for years, especially now that Alex Gordon is gone. It'd be nice if Adalberto Mondesi could rebound from two disappointing seasons after a breakout 2018 season, too. That's sort of the issue here: There's a decent amount of talent in the lineup, but it hasn't consistently turned into production.
It's a little different on the mound, where Brad Keller, Danny Duffy, Brady Singer and Kris Bubic are all variously interesting while they wait for Jackson Kowar and Daniel Lynch to join them. Problem is, we're talking about 2021, not '23, and the Royals are just a tick ahead of Baltimore and San Francisco for the weakest projected pitching.
22. D-backs (22.7 WAR)
Free agents: OF Jon Jay, RHP Mike Leake, RHP Héctor Rondón, DH Yasmany Tomás, C Stephen Vogt
Biggest need: Outfield bats, bullpen arms, Madison Bumgarner and Luke Weaver to pitch well
Arizona had baseball's fifth-weakest offense in 2020, so start with that. The only D-backs hitter projected to be above average is Ketel Marte, and even that is only if you put more weight on his outstanding '19 than his surprisingly poor '20. There are valuable supporting players here in Christian Walker, Carson Kelly, Nick Ahmed and Kole Calhoun, but they need more. A lot more.
Meanwhile, the pitching did have a breakout performance from Zac Gallen, but it's hard to see contention if Bumgarner and Weaver can't reverse disastrous 2020 seasons.
23. Mariners (22 WAR)
Free agents: RHP Yoshihisa Hirano, RHP Bryan Shaw, 2B Dee Gordon-Strange
Biggest need: Talent, everywhere aside from the outfield
The 2021 projections have Seattle with the seventh-weakest set of position players and sixth-weakest pitchers, so there's still plenty of work to be done here. Kyle Lewis looks like a superstar, at least, and top outfield prospects Jarred Kelenic, Taylor Trammell and Julio Rodriguez are all on the way. (Plus, you'd hope 2019 All-Star Mitch Haniger can return.)
So there's that and much-improved defense thanks to Evan White and J.P. Crawford in the infield, but neither one hit all that much, leaving the non-Kyle Seager part of the infield weak on bats. They'll probably need at least six new pitchers, too.
24. Giants (21.9 WAR)
Free agents: RHP Trevor Cahill, RHP Kevin Gausman, LHP Drew Smyly, LHP Tony Watson
Biggest need: Starting pitching, power bat
Despite a losing record, the Giants took some steps forward in 2020, getting catcher Joey Bart some big league time, watching outfielders Mike Yastrzemski and Alex Dickerson back up their impressive '19 seasons, receiving a surprisingly good campaign from Donovan Solano and turning pitchers Gausman and Smyly from castoffs into valuable performers. It won't be easy with the Dodgers and Padres in their division, but their rebuild is on the right path.
At the moment, we don't know if either Gausman or Smyly will be back, which is why the San Francisco pitching is projected so poorly (30th, to be exact). They'll need to do a ton to improve that, and it also feels like the end is nearing — if it hasn't already arrived — for an infield that has all of Brandon Belt, Brandon Crawford and Evan Longoria in it. They should, however, get Buster Posey back, which should help, as Bart didn't stand out in his debut.
25. Orioles (21.8 WAR)
Free agents: RHP Branden Kline, LHP Wade LeBlanc, C Bryan Holaday, RHP Kohl Stewart
Biggest need: Talent anywhere and everywhere
Deep into a rebuild like this, the question you start to ask is, "Which members of the current team could be part of the next good Baltimore team?" They're obviously counting on Ryan Mountcastle, who had a very good debut (140 OPS+). Anthony Santander may have put himself into that conversation, and John Means has become a solid starter. Trey Mancini, too, as he works his way back to health. That might be .. it? There's still such a long way to go.
26. Tigers (20.6 WAR)
Free agents: 1B C.J. Cron, RHP Iván Nova, C Austin Romine, 2B Jonathan Schoop, RHP Jordan Zimmermann
Biggest need: A reliable starter, plenty of offense
Detroit has a new manager and a lot of hope, given that top pitching prospects Casey Mize and Tarik Skubal made it to the Majors in 2020, with Matt Manning not far behind and Spencer Turnbull taking a step forward. It still feels a year too early, given that Mize, Skubal, Michael Fulmer and Matthew Boyd all had problems keeping the ball in the park, and the lineup has more holes than solutions — though the projections are optimistic that Jeimer Candelario (projected 2.1 WAR) and Willi Castro (1.9) can maintain their gains in 2021.
27. Pirates (20.5 WAR)
Free agents: RHP Chris Archer, RHP Keone Kela, LHP Derek Holland
Biggest need: Upping the overall talent level everywhere
The Pirates were a worst-in-baseball 19-41 in 2020, but they played much of that time without Ke'Bryan Hayes, who is already viewed as likely to be one of the best third basemen in baseball. If you don't overthink the shortened '20 too much, you would look at Bryan Reynolds, Josh Bell, Joe Musgrove and Jacob Stallings as solid contributors. Jameson Taillon should be back. They'll have the No. 1 overall pick — not that this will help in 2021 — and so you can see optimism for the future. It's just difficult to see it in the near future.
28. Marlins (20.1 WAR)
Free agents: RHP Brad Boxberger, INF Logan Forsythe, OF Matt Joyce, RHP Brandon Kintzler, INF Sean Rodríguez, RHP Drew Steckenrider, RHP Nick Vincent
Biggest need: Catcher, at least two power bats, relievers
It's true that they made the expanded playoffs and beat the Cubs, it's true that their young pitching is enviable and it's also true their needle finally seems pointed in the right direction. But there was some evidence of over-performing in 2020, and the offense still seems to be a concern. (No, we're not buying Miguel Rojas' 141 OPS+ in 143 plate appearances, not after a career 82 OPS+ in nearly 2,000 previous plate appearances — and neither, correctly, are the projections.)
While Starling Marte and Brian Anderson are solid building blocks, the Marlins will need a handful more to truly contend. (They were only 20th in runs scored this year.) We still don't know who will be making those decisions.
29. Rangers (18.6 WAR)
Free agents: RHP Jesse Chavez, DH/OF Shin-Soo Choo, UTIL Derek Dietrich, RHP Corey Kluber, C Jeff Mathis, RHP Juan Nicasio, SS Andrew Romine, RHP Edinson Vólquez
Biggest need: Bats everywhere other than right field and third base, bullpen
The 2020 Rangers were not expected to have a strong offense, and they didn't, though "baseball's weakest offense" was surprising even to the most pessimistic eyes. Isiah Kiner-Falefa and Joey Gallo each won Gold Gloves, and it's easy to look past Gallo's disappointing hitting season given his track record. (He is the only Texas hitter projected to be above average in '21.) It's not just about the ballpark. They are projected to be the 30th-best offense in '21 right now.
So that's a problem, and no one else — yes, you, Rougned Odor and Elvis Andrus — should consider their 2021 jobs secure. That's not to ignore the pitching staff aside from Lance Lynn, which needs to be entirely reworked. Texas has rarely seemed further away from contention.
30. Rockies (16.6WAR)
Free agents: C Drew Butera, OF Matt Kemp, INF Daniel Murphy, 2B Chris Owings, OF Kevin Pillar, RHP AJ Ramos
Biggest need: Depth in the lineup, catcher, bullpen
The good news first: Kyle Freeland rebounded from a disastrous 2019 season. You'd think of Germán Márquez as an ace if he pitched anywhere else. Antonio Senzatela was pretty good. Daniel Bard's comeback story was spectacular. Trevor Story might be the best all-around shortstop in baseball.
The bad news? All of that wasn't nearly enough. Even if you want to look past Nolan Arenado's down season as merely a result of a shoulder injury, his reported unhappiness with the team's direction will hang over everyone's head all winter. Despite the myth that "they'll always hit," they rarely do, outside of the top two or three bats. It's unclear how much they'll be able to do about that this winter, but their issue in the past hasn't been that they haven't spent enough so much as it is they haven't spent wisely. Will they ever get a catcher?
Put it this way: Arenado, Story and Charlie Blackmon are projected to contribute 8.3 WAR in 2021. All other Rockies hitters combine to project for -3.3 WAR. This has been the story for three years now.